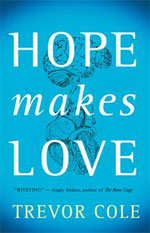 I like to do a little check-in partway through every year to see how my reading is going. As I've done in years past, I'm taking a look around the halfway point (ish) in the year at the books I've read so far, with links where they exist to books that I've reviewed (either here on this blog or briefly on Goodreads). As I've always pointed out, it's a competition with no one but myself, but it is always useful and interesting to stop and reflect a bit where one is at with one's reading, both quantitatively and qualitatively.
Here's the quantitative part: Of the 34 books I've read so far this year, 7 were non-fiction, 9 were poetry and the balance of 18 were fiction (novels and short story collections). One book was a reread. One book was a work in translation. Twenty of the books were by Canadian writers. Two books were read aloud in their entirety (er, over a period of time, not in one sitting), which is a wonderful way to share the experience with another reader/listener.
On the qualitative front, I think it's been especially good year so far. Apart from where I've reviewed a particular work, I can say in broad terms that I've enjoyed and can enthusiastically recommend everything I've read so far this year (with perhaps some qualifications for subject matter with which individual readers might be uncomfortable). Could this be why my overall reading count seems to be up so far this year? A happy reader is a prolific reader? Well then, here's to happy reading!
Hope Makes Love
by Trevor Cole

The Beauty of the Husband
by Anne Carson

Fates and Furies
by Lauren Groff

A Little Life
by Hanya Yanagihara

The Mark and the Void
by Paul Murray

Between You & Me
by Mary Norris

When Words Deny the World
by Stephen Henighan

The Brief Reincarnation of a Girl
by Sue Goyette

Just Watch Me – The Life of Pierre Elliott Trudeau (1968-2000)
by John English
(read aloud)

M Train
by Patti Smith

All the Gold Hurts My Mouth
by Katherine Leyton

Birdie
by Tracey Lindberg

Innocents and Others
by Dana Spiotta

Don't Be Interesting
by Jacob McArthur Mooney

Model Disciple
by Michael Prior

Tell: poems for a girlhood
by Soraya Peerbaye

Lightning Field
by Dana Spiotta

Providence
by Anita Brookner
(reread)

Frayed Opus for Strings & Wind Instruments
by Ulrikka S. Gernes, translated by Per Brask and Patrick Friesen

Who Needs Books? Reading in the Digital Age
by Lynn Coady

Caribou Run
by Richard Kelly Kemick

The Mercy Journals
by Claudia Casper

Zero K
by Don DeLillo

Saints, Unexpected
by Brent van Staalduinen

All That Sang
by Lydia Perovic

Stone Arabia
by Dana Spiotta

The Quotations of Bone
by Norman Dubie

Independent People
by Halldor Laxness

I'm thinking of ending things
by Iain Reid

The Hatred of Poetry
by Ben Lerner

Thirteen Shells
by Nadia Bozak

Yiddish for Pirates
by Gary Barwin

History's People
by Margaret MacMillan
(read aloud)

The Cauliflower
by Nicola Barker
Currently in progress:
The Dancehall Years
by Joan Haggerty

Being a Dog
by Alexandra Horowitz
(read aloud)

Slow States of Collapse
by Ashley-Elizabeth Best
How is your reading going so far in 2016?