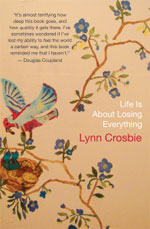 Lynn Crosbie's Life Is About Losing Everything is a gritty song cycle melding a dizzying array of short story, poetry, microfiction, memoir and more. The story traces a path through depression, addictive behaviours and destructive relationships, seeming to circle back repetitiously but always – sometimes imperceptibly, but always – moving forward. Crosbie wields dark humour, salted with sly, wry but sincerely passionate pop culture references and at times painful self deprecation and loathing. Through grief that is sometimes self inflicted, sometimes simply not fair, she poignantly acknowledges connection with others, even as it fails or is slipping away:
I smiled at her as the snow hit the window and the night darkened into the nights I will miss her, all my life.
She ruefully but doggedly (pun intended, for one of the most enduring relationships that bolsters her throughout …) mines for hope:
In the galaxies that reach out to heaven, my grandmother's words are converted to stars: We are roses, she said, and must be cut down, sometimes, so that we may grow more beautifully.
By turns fragile and feisty, Crosbie/Crosbie's heroine drives towards a determined renewal. The litany of woes and abuses is admittedly frustrating and off-putting at points, due in large part because you see the spirit and intelligence there and just want for it to fully emerge and, well, for her to get on with it. You cheer her on her journey and are grateful to her for sharing how arduous it was at times to reach her destination.
See also: Review of Life Is About Losing Everything by Kerry On Can Lit
Thank you to House of Anansi Press for providing a complimentary copy of Life Is About Losing Everything by Lynn Crosbie.