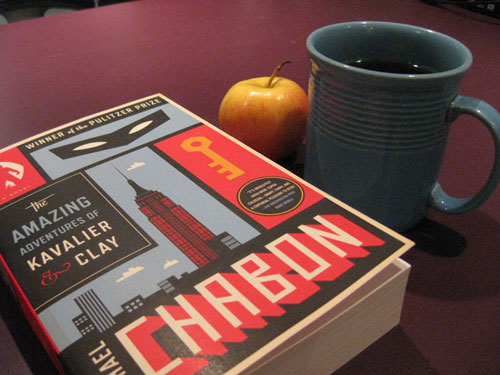 Even bookish super heroes need sustenance on reading sprints …!
"One City One Book" community reading programs, where a city promotes to its citizenry the benefits of reading the same worthy book at the same time, are a comparatively recent phenomenon with an already lively and generally respected history. Usually promoted through a city's public libraries, every year there are more and more activities associated with bringing readers together, giving them the opportunity to meet the author, discuss and explore a book's themes and more.
What am I doing, sitting in Toronto (which has its own "one book" programs via the Toronto Public Library) … taking part in a "one book" program based in Chicago?
For starters, I have always wanted to read this particular book. In fact, I'm long overdue to get lost in a book of such immense charms.

I've been curious about online reading initiatives such as sprints (offered via different social media platforms, including using the #readingsprint hashtag in Twitter), to see if they do spark reading and discussion.

I'm interested in the activities and tools that the Chicago Public Library is providing to its participants to encourage coming to the book in various ways convenient and comfortable to a range of readers. (Thanks to Bibliocommons for access to the special e-reader provided to Chicago library patrons.)
And so far?
I'm falling in love with this vivid, compelling story that grabs all of the senses. It's captivating.

I've intentionally booked specific times in my calendar to just focus on The Amazing Adventures of Kavalier & Clay. I look forward to those times, make the most of the one-hour time slots and feel like they've helped me establish some great reading momentum.

The special e-reader is a fun way of enjoying the book, because it allows you to not only easily page through, highlight and bookmark as you go along, but the sharing tools also allow you to easily capture, tweet and share passages you particularly enjoyed. From sprint to sprint, I find myself changing up between the e-reader and my physical copy of the book, which I love because it's a fine, thick paperback that somehow feels lovely and right for the rollicking subject matter.

The social media interaction via the #readingsprint hashtag has been intermittent, but is at times a nice way of connecting with other readers. (I get more responses sometimes from people curious about what I'm doing or who have already read the book and are confirming what a good choice it is.) Some of the other activities associated with the Chicago Public Library program are also featured online, the fruits of which are very interesting to see.
Will I keep at it? Yes, indeed – this has really sparked my enthusiasm. I'll be avidly taking part in future sprints … and I'd definitely consider this approach to kickstarting my reading in future.
See also: