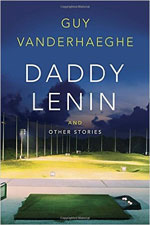 As I've done in years past, I'm taking a look at (well, near) the halfway point in the year at the books I've read so far, with links where they exist to books that I've reviewed (either here on this blog or briefly on Goodreads). As I've always pointed out, it's a competition with no one but myself, but it is always useful and interesting to stop and reflect a bit where one is at with one's reading, both quantitatively and qualitatively.
Of the 24 books I've read so far this year, 2 were non-fiction, 7 were poetry and the balance of 15 were fiction (novels and short story collections). Three of the books were rereads. Two books were works in translation. Fifteen of the books were by Canadian writers. One book was read aloud in its entirety (er, over a period of time, not in one sitting), which is a wonderful way to share the experience with another reader/listener.
The Gallery of Lost Species
by Nina Berkhout
(reread)

Mrs Killick's Luck
by Christina Fitzgerald

Hard Light
by Michael Crummey
(reread)

Fire and Air
by Erik Vlamincky, translated by Paul Vincent

The First Bad Man
by Miranda July

10:04
by Ben Lerner

Life is About Losing Everything
by Lynn Crosbie

The Devil You Know
by Elisabeth de Mariaffi

Into the Blizzard
by Michael Winter
(read aloud)

Breathing Lessons
by Andy Sinclair

Backup Singers
by Sommer Browning

Her Red Hair Rises With the Wings of Insects
by Catherine Graham

Safely Home Pacific Western
by Jeff Latosik

The Amazing Adventures of Kavalier & Clay
by Michael Chabon

My October
by Claire Holden Rothman

The Road In Is Not The Same Road Out
by Karen Solie

Human Voices
by Penelope Fitzgerald
(reread)

A Serious Call
by Don Coles

One Night in Mississippi
by Craig Shreve

Close to Hugh
by Marina Endicott

Daddy Lenin and Other Stories
by Guy Vanderhaeghe

I Shall Not Hate / A Gaza Doctor's Journey
by Izzeldin Abuelaish

Something Crosses My Mind
by Wang Xiaoni, translated by Eleanor Goodman

Tell
by Frances Itani
Currently in progress:
Just Kids
by Patti Smith

Laws & Locks
by Chad Campbell

Just Watch Me: The Life of Pierre Elliott Trudeau: 1968-2000
by John English
(read aloud)
How is your reading going so far in 2015?