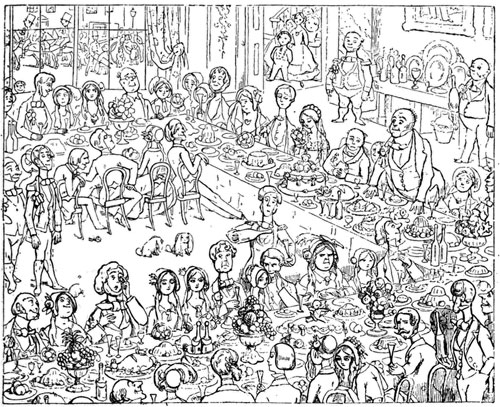 A little over a year ago, my lively poetry-inspired virtual table welcomed 500 poets and translators. Now, 200 more poets and translators have joined a festive gathering that now verges on … well, the possibilities (revelations, touching civility, mayhem …) are breathtaking. As you scan through the list below, you'll see pairings of poet guests that are poetry unto themselves.
As I've mentioned before, I've been tweeting a #todayspoem tweet every day since December 26, 2011, inspired by this. In addition to revisiting and going deeper in my own poetry collection, #todayspoem has compelled me to go further afield in print and online, and my daily tweets have reflected both my own explorations and those sparked by other generous and eclectic #todayspoem contributors. While I continue to imagine what this 700 poets and translators I've tweeted would have to say to each other if I sat them at a table … again, I'm fantasizing about the new guests who will be joining them in the days, weeks and months to come.
The following are links to more information about each of the unique poets, lyricists, writers who stray into the poetic and translators from whose work I've tweeted in just over three years. I've highlighted new additions in bold, but in fact, I've done my best to check every link in this post to ensure that each provides something interesting, useful – or in the case of a few souls that have managed to elude the all-seeing eye of the interwebs, at least something identifying – timely, whimsical and so on. The links include personal and professional web sites, blogs, journals, articles, interviews, reviews, essays, biographies, obituaries, appreciations and bibliographies.
I kind of hope that these might be starting points for others to explore these artists, too. The excerpts from their work that I incorporated into #todayspoem tweets are also saved as part of the Today's Poem Pinterest board.
Image from Project Gutenberg's Manners & Cvftoms of ye Englyfhe, by Richard Doyle