I'm delighted and honoured to welcome novelist and essayist Pauline Holdstock to the bookgaga blog. She offers a thoughtful examination of Ann Patty's interesting memoir, both an exploration of Latin and celebration of learning and literature. Before we plunge into the review, allow me to introduce our esteemed reviewer: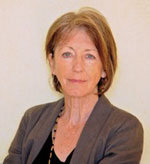 Pauline Holdstock is an award winning Canadian author, originally from the UK. She writes literary fiction, essays and poetry. Her novels have been published in the UK, the US, Brazil, Portugal, Australia and Germany. In Canada her work has been nominated for, and won, a number of awards.
Of her eight books, the most well-known are Into the Heart of the Country, longlisted for the Giller Prize, and Beyond Measure, short listed for a number of awards, including the Commonwealth Writers' Prize and the Scotiabank Giller Prize. It was the winner of the BC Book Prize Ethel Wilson Award. Pauline's essays and book reviews have appeared in Canada's national newspapers and have been broadcast on CBC radio. Her essay Ship of Fools was the winner of the Prairie Fire Personal Journalism Prize. Learn more about Pauline and her work at www.paulineholdstock.com.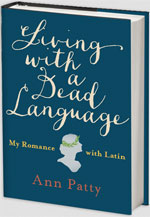 A New York editor, laid off from her high-powered job and forced into early retirement, moves to the country and sets out to learn Latin as a way to keep her mind engaged.
It's an interesting and unlikely concept: a journey into a dead language as a way forward into a rewarding new life. At the outset of her memoir, Ann Patty paints a convincing picture of the new life she doesn't want — a future bereft of purpose, prey to the inherent dangers of boredom, not least of which might be the alcoholism that destroyed her mother's later years. And indeed in the course of the book a new life does slowly take form, one where Patty finds a new community to replace her vanished world of publishing, as well as an absorbing new pursuit.
Living With a Dead Language is more than an account of the intellectual challenges Ann Patty faced in her self-imposed undertaking. It's also a memoir that gives glimpses of her career in New York, reflections on her parents and sketches of her friends and partners. Ambitiously, Patty has attempted to marry personal memoir with the Latin topics covered in her college courses. Sometimes it works. The poetry of Catullus, for instance, is the perfect launchpad for the wicked ways of decadent and driven New York, and Lucretius' philosophy the perfect entry to her forays into Buddhism and the personal crises that prompted them. At other times the connections felt contrived, superimposed.
Often, I found myself wanting to be reading a different book. Her scheme, I felt, was doing the book a disservice. It was limiting. She was glancing off too many interesting questions while squandering precious time laying out the grammar topics covered in her various academic courses and meticulously illustrating their complexity.
Although the Latin language was what drew me to her book in the first place — I still consider it the single most useful subject of my high school education and daily reap the benefits of being forced to learn it — I had no particular wish for a refresher course in the basics of grammar and syntax or an advanced course in their intricacies. A chapter would have been all Patty required to demonstrate the syntactical elements of the language and convince us that its mastery presented a daunting challenge — especially for an older student who hadn't, as she confesses, had to memorize anything in close to thirty-five years. The linguistic passages felt to me like the author revising her subject, making sure it had stuck, perhaps, too, simply wanting to impress us. I'd have welcomed more pages devoted to the wealth of coincidental knowledge — like those she offers on Roman calendars, or marriages, or burial practices, for example — that the study of Latin inevitably confers.
The book would have benefited, too, from a more rigorous treatment of some of the connections Patty tentatively introduces. Observations on the subordinate role of Roman women, for instance, are linked too loosely to an evocation of the limited version of feminism that flourished in the 1970s and followed by a sketch of the kind of pervasive passive aggression that her mother's generation suffered earlier.
The book's very title prompted many questions and connections that were never fully addressed. What does it mean to learn any language, for example? How does that open the mind? Or alter one's perception of one's own culture? And what about recent research on the plasticity of the brain and the effects of language learning. And how might the experience of learning Latin in particular enhance the brain's abilities, working as it must with the new word orders possible in an inflected language? And what effect did it have for Patty in her own recognition of Italian when finally she goes to Rome.
"Don't tell me Latin isn't alive and well in literature" she says after making an amusing but feeble link between Ovid's and romantic (small R) novelists' predilection for sexy tresses. But what of popular culture's apparently ineradicable interest in myth and supernatural influence? An afterlife? And what of the persistence of certain literary forms right across our culture — the epic, the elegy? Of certain figures of speech in literature? Much later in the book she does edge closer to examining those questions in a moving recollection of the death of a dear friend when in an "elegiac funk" she buys a copy of Anne Carson's Nox. But enquiry and argument are not her modus operandi. Her writing is governed by emotion and enthusiasm, much, I imagine, as were her editorial decisions.
Most of all I'd hoped to see some discussion or even acknowledgement of the connection between syntax and thought or on the role of grammar as vital link between intuition/inspiration/idea and expression. It's a vast and boggy philosophical field and perhaps it's obvious why Patty wouldn't want to venture there, but not offer even an observation on its effects on her own critical thinking …?
Finally, and most frustratingly, she only brushes against the whole question of elitism implicit in the study of a dead language. Her fellow students are a privileged lot as she remarks early in the book. But she doesn't emphasize the liberating potential of studying for study's sake, surely the true privilege. That becomes clear, to this reader at least, when, later, Patty visits Still Waters. Still Waters is Stephen Haff's after school sanctuary for decidedly un-privileged children. Patty visits and works with two nine year-olds carefully translating a Latin picture book. Latin is on offer Haff's after school program, along with yoga and violin — three subjects to exercise the mind, the body, the spirit. There's a Buddhist "purposelessness" to all of those pursuits, an escape from what Haff sees as the "soul destroying and deadening" core curriculum.
Clearly Patty recognized the value of what she witnessed at Still Waters and it's to her credit that she went on to volunteer both her time and newfound expertise there and to facilitate a connection with a wider community. It's interesting but not surprising that she derived a true sense of purpose and reward from the experience, something she doesn't mention in relation to her entry to the elitist academia of the Latinists.
The chapter on this visit was, for me, the most intriguing and sent me straight to Google. Here's a quote I found online — a testimonial, to use the Latin — from one of the children at Still Waters. It could well express the feelings too of Ann Patty — ever enthusiastic, ever up for a challenge, ever ambitious.
"I love Latin! Latin is a big, beautiful puzzle. It is a mystery to be solved. I feel brilliant here."
– Still Waters in a Storm