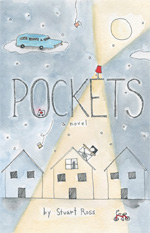 When I first read (well, devoured) Pockets by Stuart Ross, I rushed to Goodreads with my delighted reaction. I thought I would go back and expand on those thoughts for here on the blog, but you know what? I like that initial burst of enthusiasm so much, I'm just going to tuck it in here as is …
Fresh from the last page of this exquisite, poignant poem/novella, let me just tumble out some reactions, like a grateful exhalation. Pockets is a unique meditation on childhood and grief, shifting from dreams and hallucinatory half-dreams to sharpened-pencil-precise memories and images. The shifting continues between childhood and seemingly reluctant adulthood ("I was driving a car, but I can't remember if I was a child or an adult. I reached a hand to my face. It was rough, unshaven. I was an adult.") … from fleeting happiness to bewildered despair, from love to anger to yearning. Throughout, the title hovers and takes many forms. Pockets are places of safekeeping and secrets withheld, but most strikingly, pockets turned out (like those of a Red Skelton clown) denote everything from poverty to generosity denied to being drained of every last resource.
Each segment of these beautiful and sometimes quietly harrowing reflections is bottom justified on the page, and even that gives a sense of a narrator who has perhaps reached rock bottom in reconciling his sorrows. But … "Then, out of the sky, my mother's hand reached down." So small, Pockets invites you to turn to the beginning and read it again, where new pockets of grace and consolation will be revealed.
Pockets by Stuart Ross (ECW Press, 2017)
Thank you to the publisher, ECW Press, for providing a complimentary copy of Pockets.