"I see my feet walking and I wonder if I am the one moving them."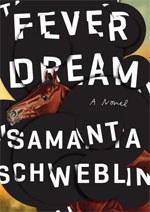 Samanta Schweblin's vivid snapshot of a nightmare is at its most unnerving when it alights on paralyzing moments of bodily disconnection. What compels the reader to endure the at times unbearable tension of this deceptively slim novella is the equally powerful moments of tender connection and intimacy. The tale captures two portraits of intense motherly devotion against a murky backdrop of what might be a toxic environmental disaster, or might be some other (or otherworldly) form of menace. Those moments of connection also include the fleeting kindnesses of strangers, just as dreams sometimes forge emotional affinities where they are least expected.
The rewards of those moments of connection, and awe at the grip and momentum of Schweblin and translator Megan McDowell's words are what will hold the reader to the end. It won't be the closure of a clear explanation or resolution.
(As a haunted, rattled and very appreciative reader, I can't begin to imagine how Schweblin's Lynchian vision had to have taken root in translator McDowell's mind. She likely had to live with and be immersed in it more than anyone.)
You're relieved when a nightmare releases you back to reality … but you don't soon forget it, you don't soon disengage its tendrils.
Fever Dream by Samanta Schweblin, translated from Spanish by Megan McDowell (Riverhead Books, 2017)