A very special journey celebrating words and memory, in support of research into dementia
When Sheryl Gordon witnessed her mother, Yolande, losing her words to dementia, Sheryl developed a wrenchingly acute appreciation for the meaning of words … and that bittersweet realization inspired the creation of A Rewording Life. Sheryl reached out to over a thousand Canadians for whom words are vital – writers, editors, poets, journalists, performers, musicians, as well as sculptors, fashion designers, teachers, comedians and more – and asked them to contribute vibrant, unforgettable sentences using out of the ordinary words, to fight back against an affliction that makes words disappear.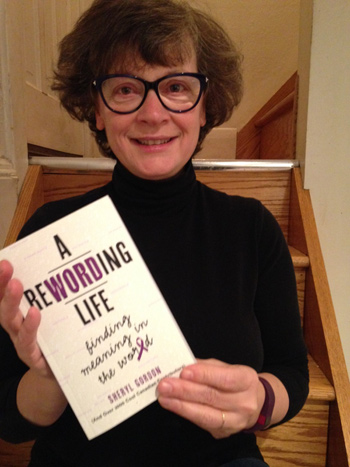 Many of the contributors are well known, including Yann Martel, Terry Fallis, Miriam Toews, Measha Brueggergosman, Tony Dekker, Emma Donoghue, Joel Plaskett and many more. Some of the contributors are, well, folks like me. Like many, I have family and friends who have been affected by dementia, so it feels particularly gratifying to try to strike back at it with the power of words.
I'm not even sure the title of "writer" really fits, but heck, I wrote this sentence: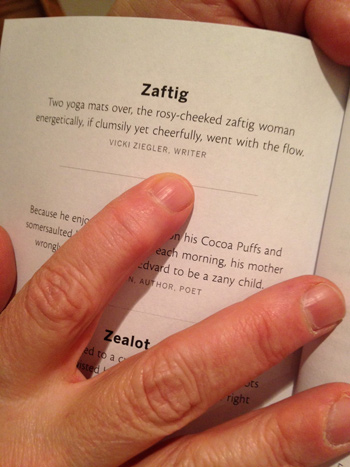 Two yoga mats over, the rosy-cheeked zaftig woman energetically, if clumsily yet cheerfully, went with the flow.

Interwoven among the myriad lively contributions are eight essays by Sheryl, the initial letters in the titles spelling out dementia. Scattered as the concept might seem, Sheryl hopes readers will embrace it. As she points out, confusion is, after all, the nature of this disease.
So, embrace it you should. In the process, you can help support organizations battling dementia. Half of the profits of each book will go to the Alzheimer Society of Canada.
Learn more about Sheryl, A Rewording Life, its worthy cause and all its amazing contributors at